What is the Centro de Estudios Superiores Navales?
What is the Centro de Estudios Superiores Navales?

---
The Centro de Estudios Superiores Navales (Center for Higher Naval Studies) is a Naval Educational Institution that provides postgraduate education concerning naval operations and is committed to continuous improvement. This educational institution offers academic minors, master's degrees and doctoral degrees to admirals, captains and officers from the Navy who are taught with quality education.
Mission

---
Our mission is to educate the Naval Secretariat's personnel and external naval personnel by providing postgraduate education to prepare active leaders in strategic, operational and tactical scenarios in accordance with the professional naval values, as well as to cooperate with the development of teaching and Institutional strategic design.
Vision

---
We are set to be at the cutting edge as a naval school ensuring high academic quality. We are committed to develop research, to spread knowledge and to boost interaction among other national and international educational institutions.
Values

---
Responsibility, professionalism, integrity, loyalty and solidarity.
History

---
Mexican Navy's history began on November 23rd, 1825, date marked by the defeat of the last Spanish stronghold by the first Mexican navy squadron. This event not only signaled Mexico's independence, but also made government realize the necessity to create a national Navy along with naval educational institutions. During XIXth century various projects and schools were created to provide such education which usually was completed abroad.
On July 1st, 1897, at the port of Veracruz, the Heroica Escuela Naval Militar (Mexican Naval Academy) is founded with the objective to train military navy officers, which training, and knowledge would allow them to comply with the Nation's demand.
Time and expertise proved the necessity to propel naval education quality to advanced levels of education. Therefore, during the 70's the Naval Secretariat envisioned the creation of a 'Maximum house of studies' which led to its foundation on September 21st in 1970. In the same year on November 30, by a presidential settlement from President Gustavo Díaz Ordaz the Centro de Estudios Superiores Navales (Higher Naval Studies Center), CESNAV, by its acronym in Spanish was created and such event was published on the Official Journal of the Federation (DOF, by its initials in Spanish).
Previously, this educational center was inaugurated on March 9th in 1970 by then Navy Secretariat Admiral Antonio Vázquez del Mercado and Captain Manuel Hernández Obregón was its very first principal. The course 'Estado Mayor' (Staff) was the first to be taught in Mexico City at Centro de Capacitación para Empleados de la Secretaría de Marina (Navy Personnel Training Center) 'Francisco Philbert Rivas'.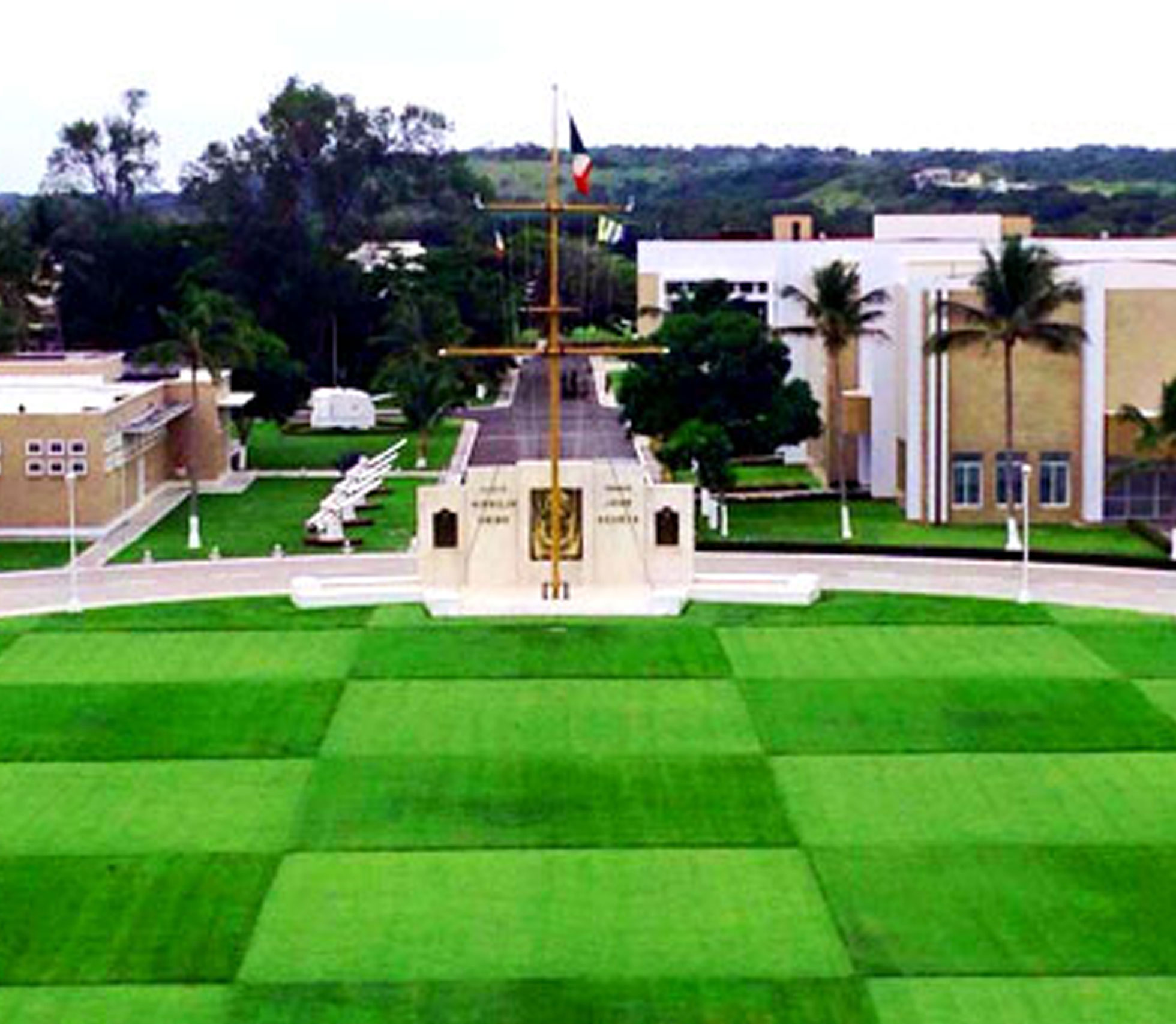 This educational house of studies was located in a variety of addresses; for instance, at the Club de la Asociación de la Heroica Escuela Naval Militar (Mexican Naval Academy Association Club) located in Avenida Independencia 59, colonia Centro from August 1st to May of 1971, then it was relocated to Avenida Reforma número 40, where the center remained for 14 years.
Consequently, another relocation was made, and the facilities were moved at Pista Olímpica de Remo y Canotaje 'Virgilio Uribe' in Cuemanco, Delegación Xochimilco.
On July 1st in 1988, the residence was changed to the old facilities of the Cuartel General de la Secretaría de Marina (Naval Secretariat's Headquarters) in Revillagigedo 11, colonia Centro.
Another relocation was made on July 15th, 1994. The educational institution was inaugurated in the current place it remains by then President Carlos Salinas de Gortari on November 23rd, 1994, on the Día de la Armada (Mexican Navy Day) at Calzada de la Virgen 1800, colonia Ex-Ejido de San Pablo Tepetlapa, Alcaldía Coyoacán.
Since its foundation this educational institution have had the goal of developing knowledge, teaching, and strategical planning of Naval Secretariat. We educate leaders who will efficiently use naval power for the country by providing postgraduate academic programs, research, and the dissemination of knowledge; always having in mind that educational quality is a generator of ideas and give the boost to human capital of all the organization.
As a 'Maximum house of studies' the institution is always in constant updating to foster the adequate professional education in specialized areas and to maintain our steadily enhanced academic and professional status.
We have developed different academic innovations through time, for instance we have offered:
The development of higher naval, scientific, and basic maritime knowledge, teaching of Mando y Estado Mayor (Command and Staff) courses and seasonal and cultural events to inform and to ensure Mexican Navy personnel is up to date. As well as to serve as an auxiliar entity of the Command via Estado Mayor Naval (Naval Staff).
By a commission integrated by admirals and captains from Estado Mayor Naval and from Dirección de Educación Naval (Navy Education Department) from October 13th to November 25th in 1970 the first academic offer was stablished as follows:
1) 'Mando Naval' (Command Course).
2) 'Estado Mayor Naval'. (Naval Staff Course).
3) 'Infantería de Marina' (Naval Infantry Corps Course).
Over the years, courses and syllabi were reformed in search of academic proficiency. The following courses were added:
The course 'Mando Superior y Seguridad Nacional' (Command and National Security); on February 16th, 1981.
The specialized course 'Técnicas de la Comunicación y Logística Naval' (Communication Technics and Naval Logistics); on January 15th, 1987.
The course 'Informática en las Ramas de Gestión y Táctica' (Information Technology on Managing and Tactic Areas); on August 21st, 1987.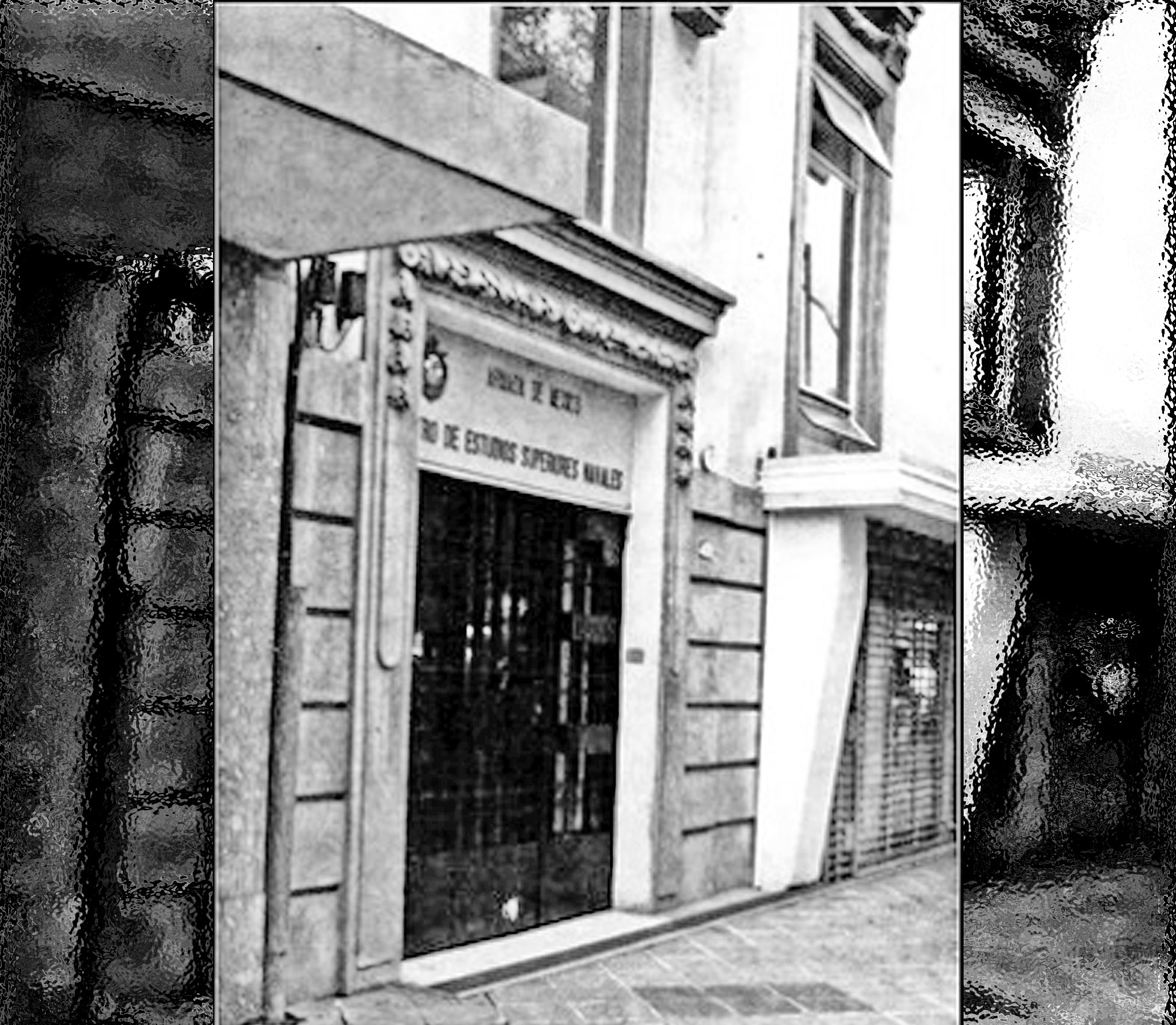 The course 'Inteligencia Estratégica para Oficiales' (Strategical Naval Intelligence for Officers); on July 31st, 1987.
In 1990 the course 'Comunicaciones y Electrónica' (Communications and Electronics), and the courses for 'Mando Especial para Oficiales de infantería de Marina (Rama)' (Special Navy Command for Officers from Navy Infantry Corps (Branch)) and 'Policía Marítima' (Maritime Police) were added; to subsequently be suspended on May 20th in 1991. On August 1st, 1996, the Escuela de Idiomas de la Armada de México (Mexican Navy Languages School) was created, teaching English, Russian, Korean, Chinese, French, and German.
The course Lengua Náhualt (Nahuatl Language) was added on January 7th in 2000 in the Escuela de idiomas de la Armada de México.
It was determined on January 19th, 2001, the incorporation of the 'Especialidad en Sistemas de Armas' (Academic Minor on Weaponry Systems) from January of 2002 onwards.
In January 2002, the course 'Logística en sus tres niveles (básico, intermedio y Avanzado)' (Logistics in Three Levels' (basic, intermediate, and advanced) was reincorporated.
Another campus of the CESNAV was created in Veracruz on October 6th in 2003; named Campus Veracruz. The course 'Mando Naval' was imparted in the main building located in the Museo Histórico Naval de Veracruz (Historic Naval Museum of Veracruz). This campus on January 1st, 2004, began its activities under the academic and technical management of the main campus in Mexico City and as a foreign military unity of the Tercera Zona Naval (Third Naval Zone).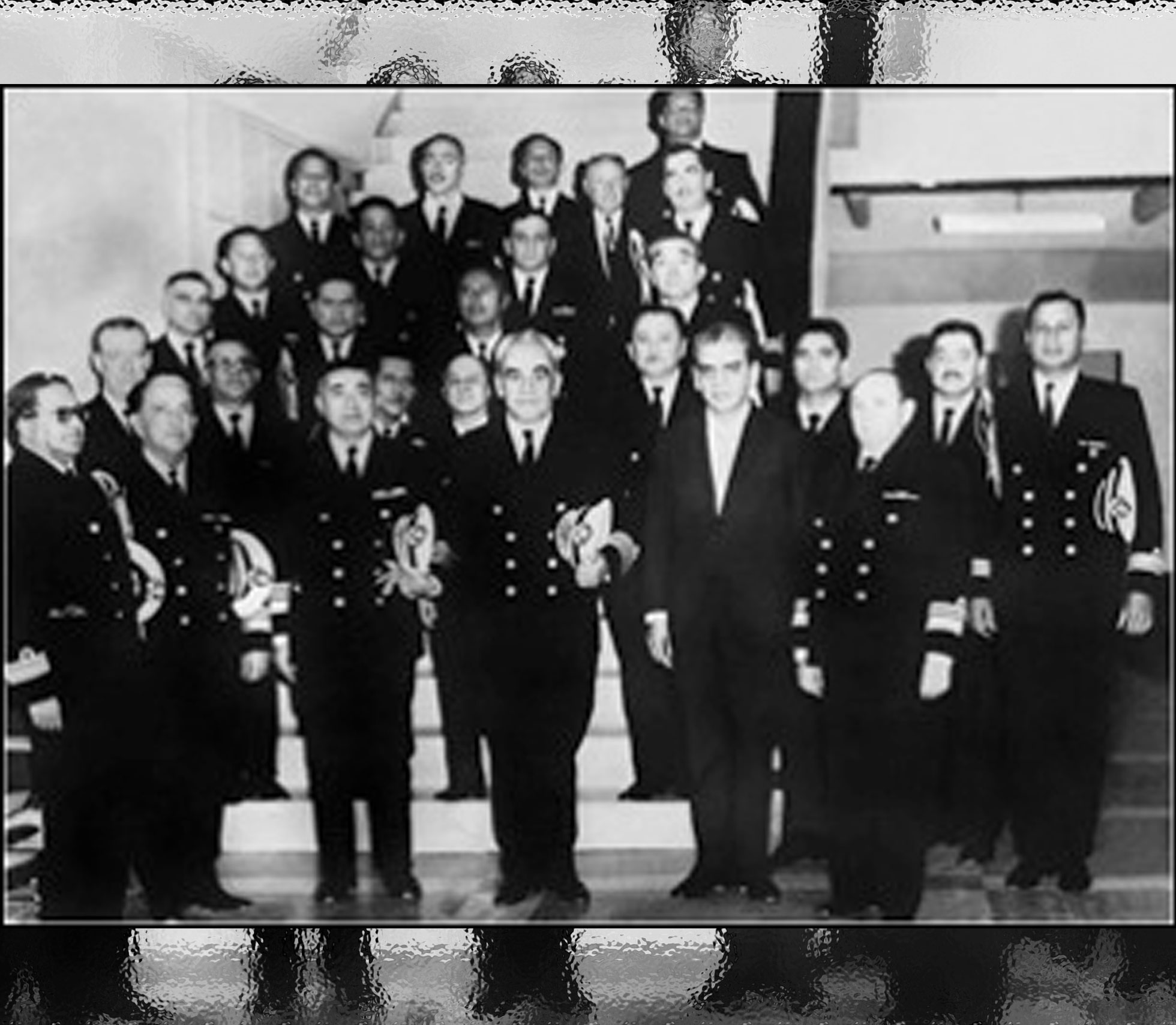 The Campus Veracruz was moved to the Casa del Almirante on November 15th in 2004 at calle Hernández y Hernández, esquina Arista, sin número.
On June 6th, 2005, master's degree on 'Seguridad de la información' (Information Security) is created.
Thereafter, doctoral degree and master's degree on 'Seguridad Nacional' (National Security), master's degree on 'Seguridad de la Información' and diploma course on 'Estado Mayor' were included. Academic minors were incorporated to the academic offer, such as: 'Mando Naval', 'Sistemas de Armas' (Weaponry Systems), 'Electrónica Naval' (Naval Electronics), 'Análisis de Operaciones' (Operations' Analysis), 'Comunicaciones Navales' (Naval Communications), 'Logística Naval' (Naval Logistics), 'Seguridad de la información', 'Informática con Análisis de operaciones' (Information Technology with Operations' Analysis), 'Logística' (niveles: básico, medio y avanzado) (Logistics: basic, intermediate, and advanced levels), 'Inteligencia (Oficial analista y oficial de caso)' (Maritime Intelligence [Analyst Officer and Case Officer]). And the courses 'Mando y liderazgo' (Command and Leadership), 'Mando Superior' (High Command), 'Seguridad Nacional' (Naval Security), 'Estado Mayor', and 'Mando Naval'.
Nowadays, master's degrees that are imparted in the facilities and online are as follows: 'Seguridad Nacional', 'Administración Naval' (Naval Management), 'Seguridad de la Información', ´Mando Naval', 'Sistemas de Armas', 'Electrónica Naval', 'Análisis de Operaciones', 'Comunicaciones Navales', 'Geopolítica' (World Politics), 'Informática' (Information Technology), and 'Análisis de Información' (Information Analysis).
Finally, another highlight that is worth mentioned is that the Reglamento del Centro de Estudios Superiores Navales (The Regulations of the Higher Naval Studies Center) was published on November 29th in 2006, where general dispositions, and academics' and students' obligations are stablished.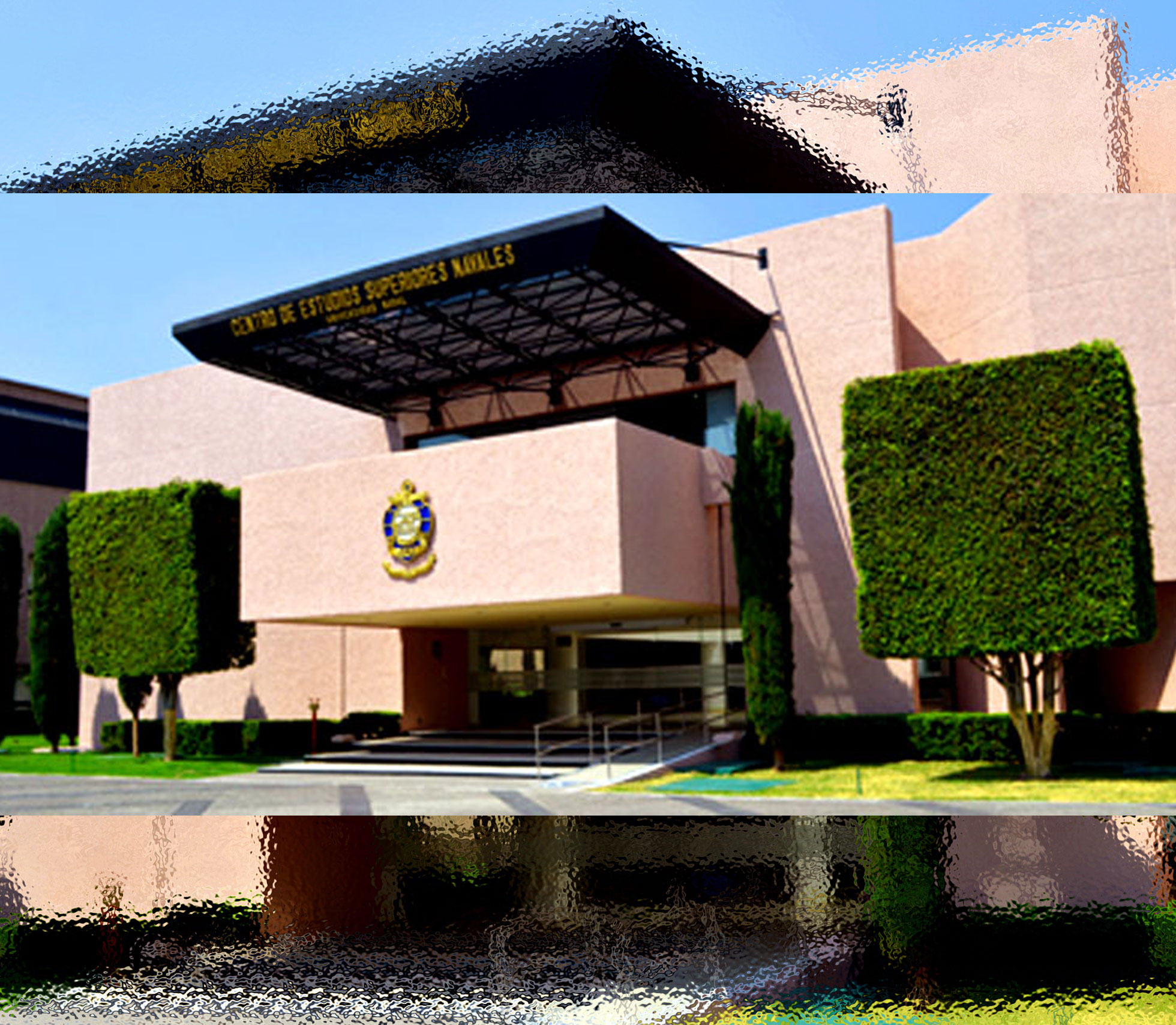 Heraldry

---
The coat of arms is composed of various pre-Columbian elements with seamen' symbols and mural aesthetics.
The coat of arms makes a composition of decorative elements which depicts the Institution's mindset, ideal, tradition, and goal; as well as the solid moral and professionalism of those who sport it.
There are three sections composing the coat of arms: a shield that encloses all the elements; an anchor with Toltec, Mayan, and Aztec ornaments; and a chimalli, that is an Aztec shield. The elements represented in the coat of arms are as follows:
1. Shackle that represents a fragment of the 'sun stone' also called the Aztec Calendar.
2. Ensemble of serpents that form the stock, the crown, and the arms in the gold anchor.
3. Kukulkan (Mayan God), he made the spiritual lives of men lively in order to develop their virtues. It symbolizes sailor's upright life.
4. Quetzalcoatl (Aztec God), he unearths dead bodies in order to immortalized them. It represents the cult to heroes.
5. Chimalli, rondache or Aztec shield.
6. Horizontal line that in the right side has a protuberance fitting with the space underneath which symbolizes the effort needed to clear obstacles and achieve one's final goal in life.
7. Three steps that represents decision, initiative, and loyalty; sailor's military virtues.
8. Discontinued horizontal line symbolizing our destiny's existence which one can successfully follows via good behavior.
9. Concavity that represents hurdles throughout life, but when overcame makes one's spirit stronger; allowing oneself to level up. Such level is represented above on the second platform.
10. Thick line on the left that represents the successful taming of future through our actions and effort.
11. Vertical line that symbolizes man, column and axis who supports personal integrity. It is represented on the first platform.
12. Golden-rimmed shield in dark blue color. Waves are on each side of the shield to represent the unexpected the sea and its weather conditions, which sailors must face in order to defend and secure our country.
13. Horizontal line as a symbol of life and restless military effort.
14. Dots placed on the bottom that represent every officer's rules of education from Estado Mayor: El saber, el querer, el poder (Knowledge, willingness, and power).
15. Twelve feathers which are the symbol of Aztec military rank and every year's twelve months meaning that all sailors must fight in the name of their race and country.
16. Hidden shank that depicts the vertical conscience of man.
17. CESNAV's Coat of arms motto in Nahuatl 'IN ILHUICA ATL TONENILIZ'. According with INALI's interpretative translation, it means: 'THIS SEA IS OUR RESPONSIBILITY'; which meaning goes perfectly with what Naval Power's ensures as a guarantor of Maritime and National Power. While delivering naval teaching the interpretation that was concluded to use is— 'EL MAR, NUESTRA RESPONSABILIDAD' (THE SEA, OUR RESPONSIBILITY).
The Coat of arms and its heraldry were sent to National Museum of Anthropology of Mexico where Dr. Ignacio Bernal authenticated the pre-Columbian elements on May 16th in 1973.